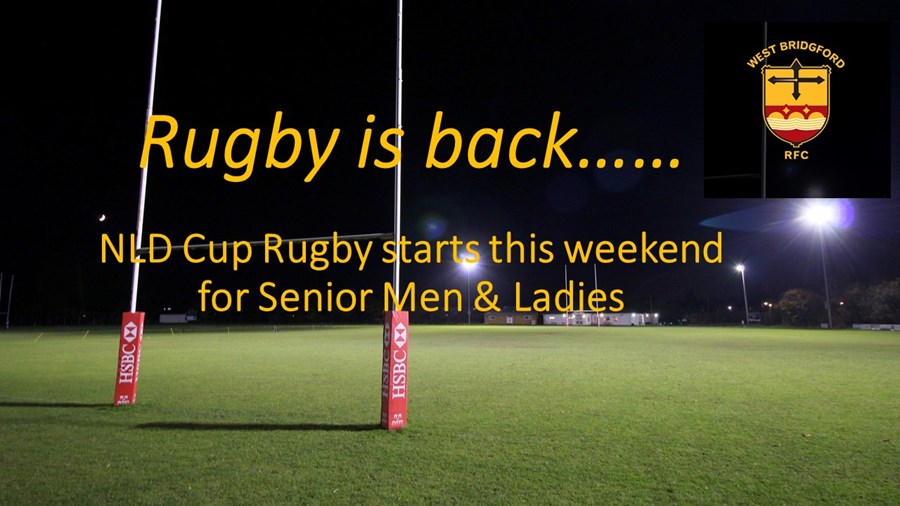 Senior Cup Rugby Returns this weekend
It has been along time coming but senior rugby for both the men and ladies, returns this weekend with the start of the NLD Cup competition.
NLD have been working hard behind the scenes to organise a structured competition to involve as many clubs and as many players as possible at the end of a non-existent season for the community game.
The coaching staff at West Bridgford RFC have decided to enter two mens teams into the 1st XV competition, namely "The Black Stallions" & "The Golden Dragons".
Head coach – Gareth Kerr commented "Our view is to get as many of our club players back playing competitive rugby and more importantly will give a good number of our 2nd & 3rd XV players a taste of 1st XV rugby. This can only be a benefit for them with their personal development and the club when we return to full league rugby in September".
The 1st XV leagues will comprise 2 leagues of 4 teams: Dronfield RFC, Long Eaton RFC, Leicester Forest RFC, Newark RFC, Scunthorpe RFC (2 teams – Green & Black ) & West Bridgford RFC (2 teams – Black Stallions & Golden Dragons)
It all kicks off this Saturday with The WBRFC Black Stallions v Dronfield RFC playing their home fixture down at our neighbours ground, Nottingham Moderns RFC with KO at 2.30pm.
The WBRFC Golden Dragons travel away to play Scunthorpe RFC.
The ladies also return to rugby and is the first competitive game since the new coaching team duo of Sam Bignall & Pierre Byworth took control.
Sam commented "Pierre and I have been delighted with the enthusiasm that the ladies have shown in training and we are really excited to see how they put their new skills into action this Sunday"
The West Bridgford Ladies also travel away on Sunday to Long Eaton RFC
Groups
Men
Group A
Long Eaton
Scunthorpe (Black)
West Bridgford Stallions
Dronfield
Group B
Newark
Leicester Forest
Scunthorpe (Green)
West Bridgford Gold Dragons
Ladies
Group A
Long Eaton
West Bridgford
Lincoln
Group B
Lincoln
Boston
Sleaford
Fixtures
Saturday 5th June
West Bridgford Stallions v Dronfield
Scunthorpe (Green) v West Bridgford Dragons
Long Eaton v Scunthorpe (Black)
Newark v Leicester Forest
Sunday 6th June – Ladies Fixtures
Long Eaton Ladies v West Bridgford Ladies
Lincoln Ladies v Boston Ladies
Saturday 12th June
Scunthorpe (Black) v Dronfield
Long Eaton v West Bridgford Stallions
Leicester Forest v West Bridgford Dragons
Newark v Scunthorpe (Green)
Sunday 13th June
West Bridgford Ladies v Kesteven
Boston v Sleaford
Saturday 19th
Dronfield v Long Eaton
Scunthorpe (Black) v West Bridgford Stallions
West Bridgford Dragons v Newark
Leicester Forest v Scunthorpe (Green)
Saturday 26th June
Play offs – Round 1
Sunday 27th June
Ladies Play Offs – Round 1
3rd July
Play offs – Round 2
4th July
Ladies Play offs – Round 2