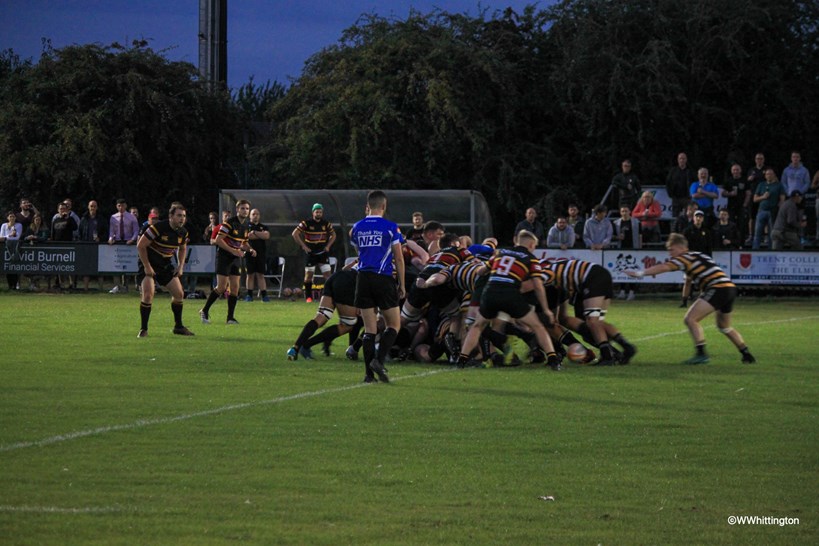 Friday night lights returned to The Memorial Ground at Stamford Road on Friday. It was great to have competitive rugby back at the ground for Round 2 of Midlands 1 East league rugby v Oadby Wyggestonian RFC.
It was back in February 2020 when the last competitive match took place and what a crowd turned up. This was by far the largest attendance we have had for a very long time, circa 300 to 350, and what a great game of rugby they witnessed with 10 tries in all.
Following kick off, the visitors, Oadby got off to a flying start scoring in the corner after just 3 minutes. After the initial setback, the Bridgford players settled down and began to run through their set plays and began to control possession which led to No 7, Luke Brown to score a well worked try on the 15 minute mark. The extra 2 points were added by fly half Matt Cox.
Bridgford continued to add pressure and Matt Cox landed two penalties on the 23 & 26 minute mark to take the score line to 13-5. Oadby continued to defend tirelessly and managed to break out to score their second try as we entered the 30th minute. 13-10
Immediately following the Oadby try, the Bridgford coaching staff, headed by Gareth Kerr, made a triple substitution. On came, Tom Southall, Steve Corban and Joe McMenamin. The fresh legs added an extra spark and eventually led to Bridgford's second try, scored by No 6 Joe Symcox, the extra 2pts added again by Matt Cox. Soon after the half time whistle blew with Bridgford leading 20-10.
Early into the second half, winger Ian Knott kicked down field, he collected his kick to feed Joe McMenamin who proceeded forwards, Oadby defended strongly, following quick ruck ball, scrum half Tom Wilkins fed his back line, the Oadby defence were up very quickly to pressure the midfield. Centre Ben Dickinson encounted man and ball, but magically produced an out the back door pass to fellow centre Ben Marlow who promptly fed No 8 Niko Salmon to finsih off the move with a stunning team try close to the posts. Matt Cox claimed another 2pts. 27-10
Oadby, weren't for giving up and continued to apply pressure to the Bridgford line, resulting in the third try after 70 minutes. The conversion was successful by the Oadby No 12. 27-17.
The final ten minutes continued at rapid pace with a second try for the Bridgford No 8, Niko Salmon and soon afterwards for winger Alex Wilson. Oadby themselves claiming two further tries.
A wonderful display of open running rugby resulted in a well deserved win for the home team running out bonus point winners 37 - 31.
West Bridgford play away at Belgrave RFC on Saturday 18th September.