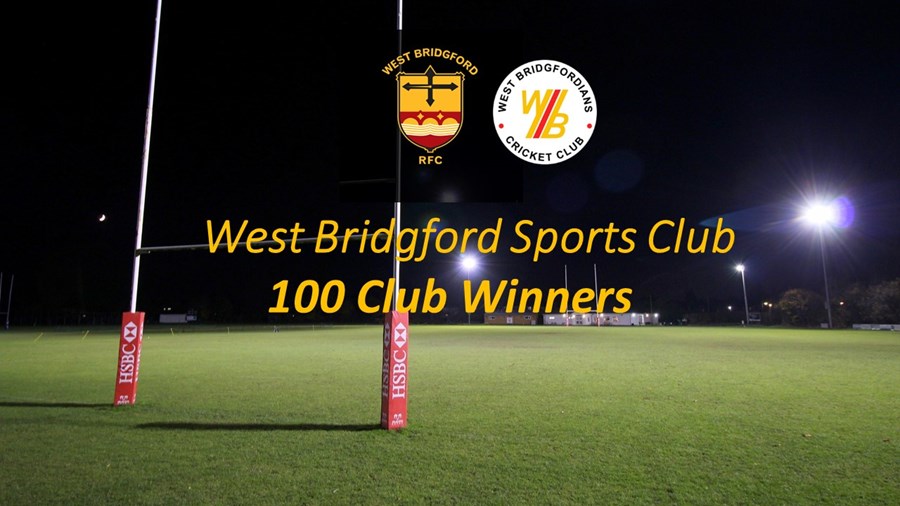 Here are the winners for January & Februaryr
Not involved? See details below
January
1st Prize    No 57  Martin Whitaker          £140
2nd Prize   No 86  Graeme Gunn             £40
2nd prize   No 80  Ben Shaw                  £40
3rd Prize    No 41  Mike Towndrow          £20
3rd Prize    No 13  Georeg Orange          £20
3rd Prize    No 59  Andrew Brackenbury  £20
February
1st Prize     No 148 Ade Churchett          £140
2nd Prize    No 55  Andrew Gordon         £40
2nd Prize    No 138  Daniel Graney         £40
3rd Prize     No 134  Edward Winiarski    £20
3rd Prize     No 150  Andy Jones             £20
3rd Prize     No 125 Bob Douglas             £20
Join the West Bridgford Sports club 100 Club, a fun way to raise essential funds for your club with a real chance to win some cash, see the winners above. The more that are in the more the prize fund.
Sign up for as many chances / numbers for £5 per month and be in with a chance to win up to £100 plus.
A draw will be made each month with prize funds equated to how many members joining.
For just £5 per month, you could win each month:
£100, 1st prize (with 100 members)
£200, 1st prize (with 200 members)
60% of fund goes to the raise the roof fund
40% goes into the prize draw.
Contact ian.wbrfc@virginmedia or claireesheard@yahoo.co.uk for an application form