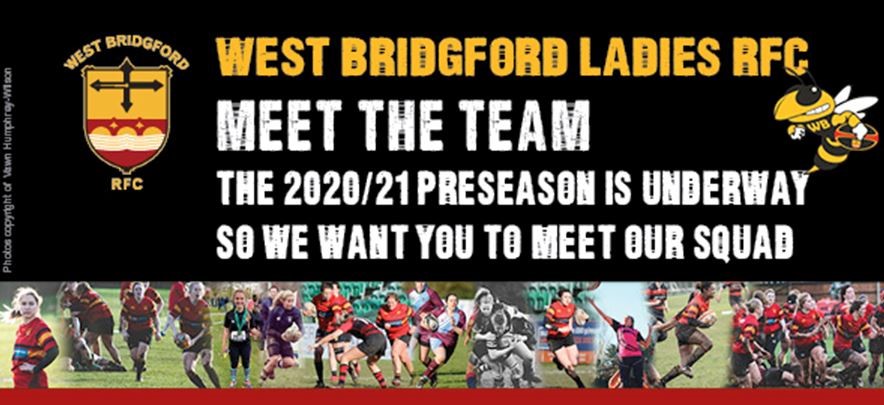 WEST BRIDGFORD LADIES - CHAMPIONSHIP MIDLANDS 2
Welcome to the West Bridgford Ladies website.
TRAINING
Training will be every Wednesday and Friday, meet 6.45pm for 7pm start: at West Bridgford RFU, Stamford Road, West Bridgford, Notts, NG2 6GF 

All players welcome, regardless of experience or ability. We look forward to seeing you there! you won't know if you like it until you give it a TRY!!
Contact Head Coach, Sam Bignall, for more information - 07794 887925.
ABOUT US 
West Bridgford Ladies will have big changes when the new season starts again. Two new coaches are now in place to take the Ladies into their Midlands 2 league games. Sam Bignall is Head Coach, WB1st XV senior player, NLD men's performance coach and ex-Nottingham RFC community coach, who will work alongside Pierre Byworth, from Long Eaton RFC, Nottingham Academy and Derby Uni Ladies Coach. Jonno Arkle, WB Ladies previous coach, hasn't disappeared but will dip into his wealth of experience to help and advice as the season progresses.
Although the 2019/2020 season had been a difficult one, both on and off the field (remember the floods!), the Ladies squad pulled together and are continuing playing in Midlands 2. New head coach, Sam Bignall, has great ambitions for the coming season, which include even stronger links with both universities and making the Ladies Section more integrated within the West Bridgford club. 

"Training sessions and schedules are already all planned for the new season. We are just waiting for the go-ahead from the RFU," said Sam. 

Training days are also changing to Wednesdays and Fridays to guarantee the Ladies make the most of their new coaches as well as the facilities at West Bridgford Rugby Club.
NEW PLAYERS WELCOME
We welcome new players of any ability, whether you want to continue to develop your rugby skills in an established high placed team, improve your fitness, or try out a new sport. Please feel free to get in touch for more information. We look forward to see you at the ground.
CONTACTS: 
Director of Ladies Rugby - Caroline Towndrow - 07876 785748
Chairwoman - Becca Humphreys - 07873 385444
Club Captain - Phoebe Nicholls - 07539 441009
Co vice captains - Yuna Murayama
Head Coach - Sam Bignall - 07794 887925
Coach - Pierre Byworth - 07470 089322
Coach - Jonathan Arkle - 07854 584004
Facebook: https://www.facebook.com/Bridgford Ladies Rugby
Twitter: @bridgyladies
Instagram: @bridgyladiesrfc